Best & Worst Holidays Gifts
The Challenge, of course, is to figure out whether each gift idea is a "best" or a "worst"


Found at Blair:




BendOver® Skirt
Flatters every figure. Flat waistband has hidden elastic. Back shaping darts, walking slit. Petites 27" L; Average & Women's 28" L. Wrinkle-resistant superstretch woven polyester stretches up to 22% in both directions. Machine wash/dry. Made in USA or imported.

Paging Mr. Dover... Mr. Ben Dover... Since the skirt appears pretty normal, I have to guess this is either evidence that Bart Simpson is working at Blair or it's just a marketing ploy/blunder.



Found at Elseware: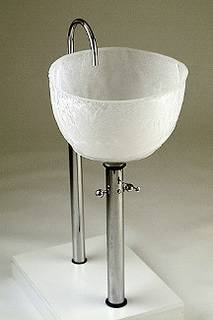 Squish - flexible rubber sink
The Squish rubber sink is made from a silicone rubber allowing the sides to be flexible. They can be 'rolled' up or down to change the depth of the basin. This sink not only brings more fun and interactivity into the bathroom but it provides for a safer environment for kids and adults alike by not having any hard edges or corners. It is easily cleaned as silicone is virtually inert and very little sticks to it.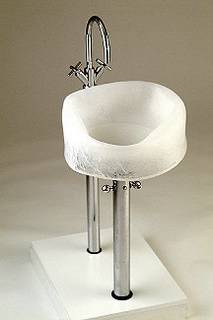 Squish in Mid-Squish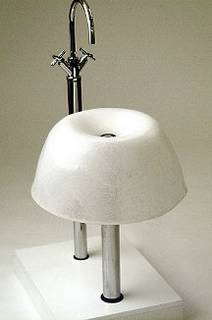 Squish in Full-Squish



Is it just me, or can you also see the image of a full sink brimming with ice cold water being inverted with glee by a toddler. Over and over. Yep, I am loving that fun & interactivity!



Found at Archie McPhee: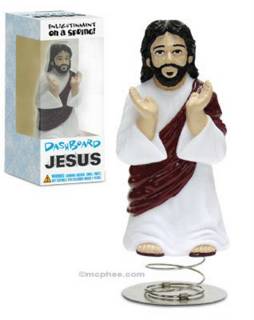 Dashboard Jesus

(sing along now)
I don't care if it rains of freezes
'Long as I got my Plastic Jesus
Riding on the dashboard of my car

But I think he'll have to go
His magnet ruins my radio
And if we have a wreck he'll leave a scar


And finally, for the art lover/reader on your gift list: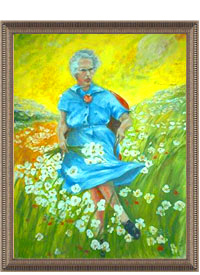 The Museum of Bad Art, Art Too Bad To Be Ignored by Tom Stankowicz and Marie Jackson, 103 pages, paperbound. This definitive work by Marie Jackson, MOBA's Director Of Aesthetic Interpretation, and Tom Stankowicz, MOBA's Director of Imaging and Reproduction, features a stunning selection of 40 works from MOBA's Permanent Collection as well as a history of the institution and its many programs.