Guinea pig match-dot-com
So, you may be asking, what about Max?



Max Looks Out On The World



We lost Ashleigh last Sunday, and as you know, Max & Ashleigh were a bonded pair. Guinea pigs can actually grieve themselves to death when their mate passes away. They just stop eating, drinking, and lay down and wait. So we watched Max carefully for the next few days. I think he thinks the monkeys around here have gone nuts because we constantly pick him up, pet him, talk to him. He did have some stomach upset, the rescuer and vet think it was emotional, but it led to a small imbalance in his gut that we are treating now. He is really doing very well and we are proud of the little guy. He sits and breathes these deep piggie sighs.

I talked with the rescuer and we agree that Max is lonely, he misses Ashleigh but also he has never lived by himself. We decided to try and introduce Max to a few females in his age group and see if a pairing looks promising. She mentioned some of the girl guinea pigs up for adoption are on her website. I sat down with Max on my lap and we checked out the pix.

Max seemed to study each picture so intently. He is a 21st Century Pigster, down with the technology, loving the web dating on piggiematch.com. See what you think. Will Max find friendship? Romance?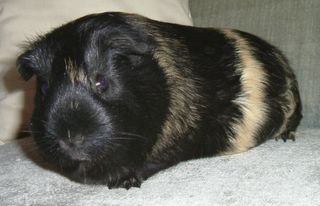 Holly


Thelma


Tigger




We meet the girls on Sunday & we'll tell you how it goes!